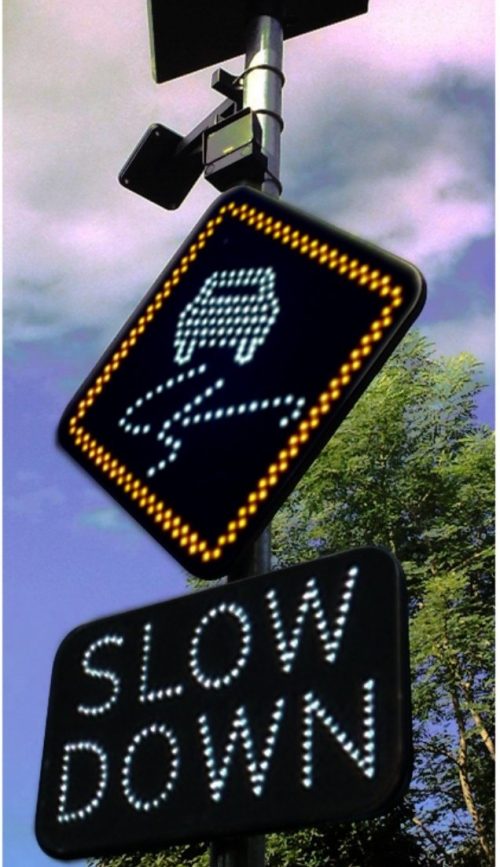 About Pioneerz Safety
Australian owned and operated, Pioneerz Safety Pty Ltd are at the forefront of Solar powered LED signage in Australia. Pioneerz Safety are the sole Australian distributor for Solagen Ltd.
Solagen products are utilised worldwide. They introduced the first solar powered only Vehicle Activated Sign into the UK. They remain one of the world leaders in this field today.
Having installed the first Australian site over 10 years ago, and knowing that these installations are still working today, Pioneerz Safety can say, with absolute confidence, that we supply a product that is hard to top for design, aesthetics, reliability and functionality.
Pioneerz Safety are ISO 9001:2015 Certificated. To see a copy of our Certification click below.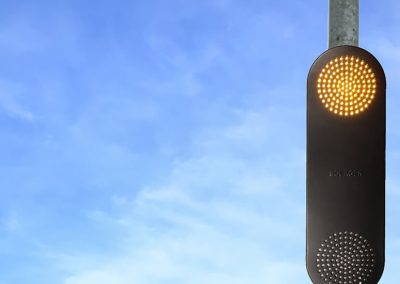 Australia's Proud Distributor For Solagen Ltd
Pioneerz Safety bring you market leading Solar Powered LED signage. Solagen utilise the latest generation of electronics, power management software and highly efficient LED's.
This enables Pioneerz Safety to provide a quick to install,
cost effective solution for speed and accident reduction, through use within 'speed management schemes' and by targeting 'crash cluster sites' and 'accident black spots'. Some of the major features are listed as follows.
Slim-line Sign Face Profile

Anti-theft Bracketing System

Robust And Built To ISO 9001

Photo-sensors Adjusts LED's Output For Ultimate Sign Performance In All Conditions
No Expensive Trenching, Cabling Or Electrical Connections

Battery And Electronics Housed Within The Post

Consistently Reliable Batteries

Remote Panel Installation

No Bulb Replacement – LED's Will Provide Up To 100,000 Hours Of Serviceable Life (27 years at 10hrs a day)
ITS Approval
Being the first supplier with ITS Approval from TRANSPORT for NSW for Vehicle Activated Warning Signs, Pioneerz Safety are extremely proud to exclusively offer the Solagen product. We strongly believe that each client that has utilised these products continue to be impressed with its design, performance, reliability and the results achieved through the installations, alongside excellent service provided by Pioneerz Safety.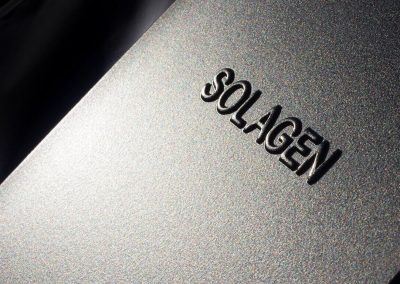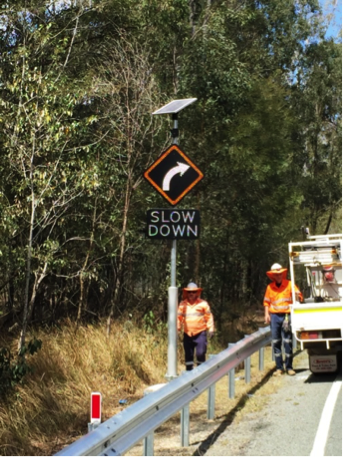 Leading Edge Technology
The products are environmentally friendly, low maintenance and incorporate leading edge technology, designed and developed for use even in our harsh Australian environments.
Quick And Easy Installation
Using solar power removes the need for expensive cabling, trenching and connection of mains electricity. This results in cost-efficiency over traditional lighting technologies. These products can be installed on sites where, in the past, it has been cost prohibitive to do so.
Being a customer led company, Pioneerz Safety has regularly facilitated the development of products, with Solagen, to assist clients with solutions to particular black spot issues. For example, Solagen's Wet Weather Sensor technology was the first of its kind in Australia, initially developed to reduce wet weather crashes on the Kuranda Range and now widely used throughout Australia.